Did You Define Your Attitude
at Work?
---
The most important thing to do as you begin your new career is to define your attitude towards work. How will it contribute towards your career? How will it add value to your role as a career builder?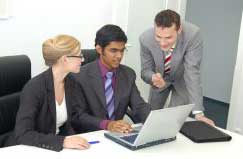 How do you define attitude? According to The Advanced Learner's Dictionary of Current English - attitude is defined as "a way of looking at life; a way of thinking, feeling or behaving." Therefore an attitude is not just the way we think, but the way we think, feel and do.
You may have your entire career plan worked out, but if you do not define your attitude to build its foundation on, then before long your plan will crumble. That's not to say a career plan is not important. In fact, it is very important inachieving career success. 

What you need to understand is that a positive attitude is even more important. So how do you define your attitude at work? For me, to define your attitude at work means deciding the values that would guide me in my working environment.
Somewhere in my career after tonnes of self-improvement books I have read, I decided I needed to define my attitude towards my career. I decided that these three values would be my clear defined attitude towards my career.
1. Pride 
I know this is a tricky word. It connotes arrogance especially when one has too high an opinion of oneself. Personally, in defining my attitude - "Pride" is taken to mean self-dignity. Pride prevents you from doing just enough to get by. If you know everything you do at work has your name and signature on it, then you will give it your best shot and nothing less.
2. Passion 
Just a simple plain 'interest' in any work or career you choose isn't enough to bring you through the tough times. And trust me, there will be tough times. It could be an unreasonable client or an impossible time-line. However, a burning desire will pull you through these. An intense enthusiasm for all things worth doing will pull you through the toughest times.
3. Belief 
In order to generate passion, it is important to believe. Only a deep believe will create the vigour and force that gives you the fuel to charge. Know that you can achieve all that you set out to do for yourself. You only need to start believing in yourself.
What is your defined attitude you take towards your work? Write them down and begin practicing. 
More Articles Related to Define Your Attitude at Work
Positive Attitude At Work : Common Expectations from Bosses To Get You Promoted 
How do you build positive attitude at work to get you noticed by your bosses and appreciated by your colleagues? 

Positive Attitude in the Workplace for Newbies Seeking Career Success 
Your positive attitude in the workplace determines how far you can go in your career. Have you thought about what are some of your positive attitudes at work? 

Discovering The Right Attitude For Career Success – 7 Straightforward Strategies For The New Executive 
As a new executive in the workforce, you need to find the right attitude for career success. Here are 7 straightforward strategies to help you enhance your career. 

Developing Positive Attitude at Work 
Developing positive attitude at work can determine how successful you are in your career. However, this can be tough especially when things seem to go wrong all the time. 

Work Attitude Values Enhancement – Your Personal Principles 
Some companies conduct work attitude values enhancement programs for their employees. As a newbie, you can use these values as your own personal work attitude values enhancement principle. 

Positive Work Behaviors: 8 Straightforward Tips For Moving Up The Corporate Ladder 
Many of us fail to see that simple positive work behaviors practiced early can help in moving up the corporate ladder. Here are 8 new tips for making that career head start. 

Joy At Work – 7 Ways Find Joy And Peace At Work 
How do you find joy at work? Work is after all what it means. Work. It's not supposed to be fun? 

Famous Attitude Quotes To Inspire You 
A compilation of over 100 positive attitude quotes by famous persons. 

Understanding the Difference between Work Attitude Behavior and Work Behavior Attitude 
Work attitude behavior and work behavior attitude is not necessarily the same. Why is it important to understand the difference? 

Your Definition of Attitude Determines How Successful You Are In Your Career 
Your definition of attitude determines your career altitude. What is the approach you take towards your career? 

Cultivating Good General Work Attitude - 5 Quick Tips For The Workplace 
Cultivating good general attitude at work can determine how high your career can fly. 

Work Attitude - Pick A Simple One And Start Working On It 
Work attitude is often seen as a key determinant of your career success. Which work attitude should you work on? 

Why Do You Need To Define Your Attitude Towards Work? 
You may have your entire career plan worked out, but if you do not define your attitude to build its foundation on, then before long your plans will crumble.