FREE Career eBook
52 Things You Can Do To Improve Your Work – A Week At A Time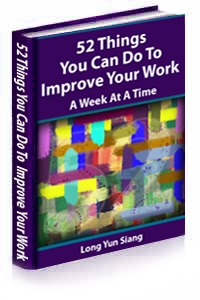 It is interesting that most of us would think about our monetary investments and look for returns on those investments but we never look at investing time to better ourselves. Invest time in yourself and changing yourself for the better now, at this moment and reap its return in the years to come. If not you, who? If not now, when?
You can speed through this FREE career ebook in 30 minutes. But that is not its purpose. Too often we hear about people complaining about work, work life, colleagues and work related problems and challenges. The fact that we spend a lot of time at work means it has the potential to dictate how we feel throughout the day, months or year. How often do we reflect and act upon what we can change?
If you can act upon some of the steps here diligently then you will begin a process of changing your work environment for the better. Realize that when you change, your environment changes too. There are 52 things you can learn to practice in this FREE career eBook.
You cannot expect overnight results with things that are behavioral in nature. It can only work over time with a new mindset and continuous conscious effort.
Covered in this FREE career eBook:
There is Nothing Positive About Anger


Make a Decision That Control Is Possible


Get Rid of Stupid Excuses


Positive Change Should and Can Happen


Do What Others Won't Do


Do More Than Talk…and many more.
Download this FREE career eBook now!
This new FREE career ebook is a quick read, ready designed to remind you of easy things you can do weekly to make your work life better!
You can view 52 Things You Can Do To Improve Your Work Life A Week At A Time online by clicking here, or you can download download the pdf file here, which you can read on your computer at your leisure.
You need to make sure you have the current version of the Adobe Acrobat Reader (this is free, too.) Click here to download the Adobe Acrobat Reader. A new window will open so you can download without leaving this page.
If you have any problems downloading or viewing these ebooks, send us an email and we'll send the ebook to you as an attachment; ebook@career-success-for-newbies.com.


GIVE THIS FREE ON YOUR SITE
Do you think visitors to your site will benefit from these FREE articles and eBooks? You have full permission to distribute in your ezine, website, blog, forum, RSS feed or print publication and/or distribute it as a free bonus with other products, provided it is left completely intact, unaltered and delivered FREE and not be sold. What we ask is to include the FULL Resource box or SIG line provided below in your distribution and to make the link active/linkable with no syntax changes.
If you run a community newspaper, or any newspapers for that matter – free or otherwise - you can use these free career articles as a column before the classifieds job opportunities section. It helps add value to your readers. Or if you are running a career center and send newsletters out, you can also use these free career articles in your newsletter. Lecturers have used these free career articles for their English, Management and other classes. It is up to you how you want to use it, as long as the article remains intact. After all, we did create this site to be helpful to others.
We will continue to add more free career articles here you can reproduce. Do check out this section often.
Articles:
1. Job-hopping: How It Affects Your Career Success
2. 5 Effective Work Habits For Fresh Graduates
3. Achieve Career Success with 5Ds?
4. Top Five Habits for Career Success at Entry Level
5. Career Success Tip: The Zen Way
6. How To Get Promoted : 9 Obvious and Often Not Practiced Tips
7. Getting Promoted: Advancing Career in a Sustainable Way
8. Lifelong Learning Attributes for Career Advancement - Perspectives from Chinese Proverbs
9. Career Promotion Advice: How to SHINE and Gain the Promotion You Want
10. Career Enhancement Tips For First Jobbers: 3 Key Tips to Grow Your Career
11. Career Advancement Tips for Freshies: 5 Quick Advice to Help You Grow Successfully
12. Positive Work Behaviors: 8 Straightforward Tips For Moving Up The Corporate Ladder
13. Career Success Factors: 5 Simple Ways for a Career Boost
14. Career Booster: 5 Attitudes In The Workplace to Get You Ahead
15. Stress Management Techniques: The Top 5 To Cultivate to Succeed at Work
16. Stressed Out With New Responsibilities? Here Are Simple Stress Management Tips To Help You Cope in Your Early Career
Ebook:
Career Success Recipe For Newbies
SHINE At Work: Your 30-Minute Guide
52 Things You Can Do To Improve Your Work Life A Week At A Time
Resource Box/SIG line:
Long Yun Siang or Long, as he is popularly known runs http://career-success-for-newbies.com with his wife Dorena as their way of paying it forward. Their website – based on their real life experience - provides tips, tools and advise for newbies pursuing career success.

For latest updates on our articles and free career ebook, click here.