Stress Management Techniques: The Top 5 To Cultivate to Succeed at Work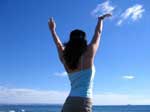 What are your favorite stress management techniques?
The techniques described here take time to cultivate, but is well worth your effort. The ultimate objective being to develop a habit of these techniques - so that it becomes second nature to you.
As a career builder newbie, I urge you to start developing some of these techniques in order to manage the stress you will experience as you climb the corporate ladder.
Stress Management Technique #1: Greet People Warmly
Greeting people warmly especially in the morning is important to manage stress. You wonder why? Have you ever noticed how some people come in the office grumpy? It is almost as if, they have decided that they will be stressed out that day. When you greet someone warmly in the morning, it says you have decided that you will start a great day. Imagine starting a day on the low and watch it get worse!
Stress Management Technique #2: Be Conscious Of Our Behavior
Being conscious of your behavior means to be conscious of how you feel and act. It is the trigger in your mind that says "I am getting impatient with this discussion. And I am going to raise my voice." Once you are mindful of your actions you can choose to react in a more positive fashion. Now, you may ask – how can I be conscious of my actions if I am in the middle of an argument with someone? Well, it takes practice. Just as we practice a certain sport prior to an important tournament.
Stress Management Technique #3: Be Conscious Of Our Breath
Taking deep breaths and counting is a popular stress management technique. In this particular one, my variation is to be conscious of my breath. Whenever I feel stressed, I excuse myself if I am in the company of others and walk away. While walking away to the washroom for example, I concentrate on my breath touching the tip of my upper lip. And I consciously slow my breath down while concentrating on it. It takes the negative thoughts out of my mind.
Stress Management Technique #4: Reviewing The Positive
Create a habit of reviewing the positive that has happened throughout the day. The idea is to cultivate the habit of looking at the positive. Instead of crashing in front of the television when you reach home, spend five to ten minutes reviewing what nice things others have done for you. The kind deed others have done that made your day turn out great. I practice this while being stuck in traffic. It kills two birds with one stone, it allows me to review the positive and takes my mind off the traffic situation at the same time.
Stress Management Technique #5: Letting Go The Negative
Let's face it - we are but mere mortals. We will make mistakes while trying to cultivate these habits to manage stress. In reviewing the positives, we should also be conscious of the negative that we have done. Maybe we did not realize it earlier in the day. It could be something nasty we have said to someone. Realize this and "cleanse" yourself by flushing away the misdirected actions. Do this by forgiving yourself and remind yourself that you will not do it again.
Admittedly, these 5 stress management techniques take time to cultivate. Make a decision to start today and watch your stress greatly reduced as time goes by.





Free Article for Distribution
Reprint Rights:
You may publish or reprint this article as long as it is published in its entirety with no changes to the article. You also agree to add an active link to our website and include the FULL Resource box/SIG line at the end of the article.
Resource Box/SIG line:
Long Yun Siang or Long, as he is popularly known runs http://career-success-for-newbies.com with his wife Dorena as their way of paying it forward. Their website – based on their real life experiences - provides tips, tools and advise for newbies pursuing career success.


More Articles About Stress
Monday Blues: How To Deal With It
It is going to be the start of another work week and you are dragging your feet already. How you deal with Monday Blues?
Relieve Stress At Work: Do More At Work and Get Small Tasks Out Of The Way
Stress getting the better of you? Here are some small steps I use to help reduce and relieve stress at work effectively.
Release Your Tension – How to Feel Relax Before Going to Work
With the pressures of family and work, tension seems to be always around. However, we can learn how to reduce it. So how can you release tension effectively?
I Dread Work: How To Not Fear It
Does the word "I dread work" keep playing in your mind?. What are the ways to stop yourself from dreading work?
The #1 Stress in The Workplace
Collectively you and your colleagues may have created the #1 stress in the workplace without knowing it.
How to Avoid Burnout at Work
How do you avoid burnout at work? After all, there is only so much you can do in a day...
Stress Reduction Techniques
Every new career builder will need some simple, effective technique to help reduce work stress. Learn about these simple techniques to help reduce stress.
Stress Management Article For The Time Starved
Too stressed to even read a stress management article? Here's a quick one for you.
Simple Stress Management Tips for Career Newbies
Stressed out dealing with new responsibilities? These are the simplest stress management tips to use.
Stress Relief Technique for Work: Getting Organized, It's Not Just Writing A To Do List
How do you cope with stress at work? One biggest, most effective stress relief technique I discovered over the years is getting organized. Here's how you do it in 5 easy steps.
What Are Your Favourite Stress Management Techniques?
These are my 5 favorite stress management techniques.
---
By the way, if you haven't signed up for our FREE ezine, you can do it here...