As a Newbie Pursuing Career Success the Right Tools are Important for Your Career Success
We provide the newbie pursuing career success in you with tools, tips and guide for a successful career, work and life.
Have you just graduated? Have you just landed yourself with that first job? Are you ready to take on the world but you feel lost? Are you at your first few years of work or at a career crossroad? And feeling disgruntled, demotivated, confused and in need of guidance?
What do you do next in order to progress?
Life in the working world is very different from school or college. There are no clear rules so to speak. But there are guidelines and principles you can follow to increase your chances of career success.
Based on our real life experiences, we want to provide you with guidelines, advice and tips to help you ease into the working world. In the hope this will help you achieve career success.
This is our toolbox, tools we have used in the course of our own pursuit of a successful career.
The tips, techniques and advice are geared for you to be a success with bosses, colleagues, clients and foes.
While we can share our experiences with you, YOU need to belief that you are in charge of your own destiny. Everything starts and ends with you. You are the one in control, no one else. We do not have magic formulas here you can learn in a night and be on your way to greatness. But what we know is this - the advice, tips and techniques here are used by ourselves. We aim to guide you towards a successful career, work and life.
We have collected them for you to freely use in pursuing career success. You are your own career builder; we are the supplier of the tools. You need to decide which tools to use, which suits you best and then put them into action.
There are three things we ask of you:
1. Bring Enthusiasm. Unless you are interested to improve yourself and attain success, no amount of reading can help you.
2. Take Action. Internalize the relevant materials. Then decide to take action. Nothing happens until you act upon that change you desire.
3. Be Patient. Nothing happens overnight. Success like many things in life takes time. Drop by drop an empty bucket is soon filled with water. Small steps at a time. Pursuing career success is a marathon. Not a sprint.
As you peek around you will see things in a different perspective, so you can enjoy and feel more satisfied pursuing career success. Well, come on in and let's get started!
Get All 3 EBooks Now - IT'S FREE
52 Things You Can Do To Improve Your Work Life A Week At A Time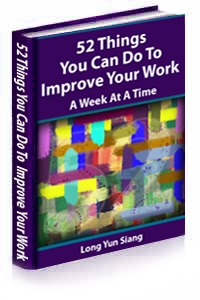 It is interesting that most of us would think about our monetary investments and look for returns on those investments but we never look at investing time to better ourselves. Invest time in yourself and changing yourself for the better now, at this moment and reap its return in the years to come. If not you, who? If not now, when? An informative read, ready designed to remind you of easy things you can do weekly to make your work life better and in pursuing career success! Get it now.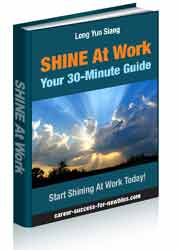 SHINE AT Work: Your 30-minute Guide
Looking for career promotion advice to climb the corporate ladder successfully? Here's a book to increase your promotion chances. Get it now.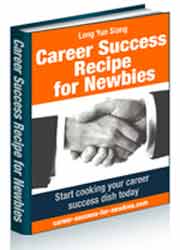 Career Success Recipe For Newbies
If you are sincere in getting off to a great start pursuing career success and need to be pointed in the right direction, then this book is for you. It has the career success recipes you need. Get it now.

New! Comments

Subscribe to my Career Success For Newbies blog for up-to-date postings, latest "in-news" and comments on career success, career advice and career development.
How to motivate employees – perhaps begin with yourself?
Know any interesting career success stories? Share it with like-minded people here. We would love to hear from you.
There are no quick answers to how to find your dream career. Get through this hurdle and your dream career is within grasp.
Controlling your anger isn't an easy thing to do. But once you begin to accept and incorporate this anger management tip in your work, you'll find managing anger is easy.
Feeling unappreciated? Keep appreciation at work alive by celebrating The International Death of Appreciation at Work Month.
Did you define your attitude at work? The most important thing to do as you begin your new career is to start defining your own attitude towards work.
What job suits me? What can I get into? With a degree and no directions, where shall I start?
How do you create time? Really, sometimes, it is not so much about creating time but about not losing time.
Practical career enhancement tips for first jobbers. 3 key tips to help you grow your career.
Are you giving your best, but still not moving up? Here are 4 strategies on how to move up the corporate ladder, successfully.
How do you begin personal goal setting? What are the areas you can start setting goals?
Some bad habits are carried into the office environment and can be bad for your career advancement. How to break bad habits in the workplace?
Can someone really strive being happy at work? I mean after all, it is called work. Is work supposed to deliver happiness to us?
It is never too early to start developing leadership skills. Learn to develop the skills to bring out the leader in you.
How can you be a leader at work if you do not carry any title?
Simple steps in practicing positive thinking in the workplace.
Ever wondered how you could cure negativity and create harmony in the workplace?
How to get promoted is probably one of the most often asked question in the working world. What does it take to get that promotion?
Creating passion is a challenge isn't it - trying to love what you dread. Can passion really be created for your work?
Your attitude at work is perhaps the reason. Are you playing the blame game?
What are work behaviors that can positively impress your colleagues, especially when you are new at work?
If you suspect you suffer from low self-esteem, it is worthwhile to look at the definition of low self-esteem to understand and overcome it.
7 practical tips on how to be irreplaceable at work and indispensable to others.
Should I quit my job? 11 critical questions to ask yourself before you quit.
Collectively you and your colleagues may have created the #1 stress in the workplace.
What is your definition of success? Before you can achieve success, you need to define what success means to you.
How do you measure your success or even define your success?
Time management isn't the only issue when we look at what causes procrastination.
Career Advice For The Unemployed – How Do You Lessen The Stress?
Value of success should not be just financial success. It should be anchored on the values that guide our lives. Not what we take but what we give. Why?
You will be looking for your wealth secret shortly after you started work. So what's your wealth secret?
Free inspirational quotes to motivate, inspire and kick start your day…
Get your free career ebook : 52 Things You Can Do To Improve Your Work – A Week At A Time
Looking for a career success recipe? Here's a FREE eBook that shows you how.
Shine at work. Is there really a strategy to it? If there is, what are the things you need to do? Find out more in this Free career ebook .
Free career articles for reprint and distribution. Career topics includes career planning, career advice, career development, career success, career goal setting and many more.
Newbies Careerzine brings you Free career tips and information to kickstart your career successfully!
Whether you need help in pursuing career success, career planning, career advice or career guidance, we found a few sites to help you get along.
These are my favorite books on career success. I like them because they are written by thought leaders in their fields. Check them out here...
Looking for specific career related information? Use Site Search to look for answers, and links to articles, ebooks and tools of career-success-for-newbies.com for your convenience.
Do you have any questions, comments or suggestions relating to your career or this website? Please let us know.
About the author of Career-Success-For-Newbies.com - Long Yun Siang. My belief in giving and paying forward.
Career Success For Newbies Privacy Policy